KILAUEA: Eruption of lava in the Leilani Estates continues
Posted by feww on May 5, 2018
HAWAIIAN VOLCANO OBSERVATORY STATUS REPORT  – USGS
Friday, May 4, 2018, 4:04 PM HST (Saturday, May 5, 2018, 02:04 UTC)
KILAUEA VOLCANO (VNUM #332010)
19°25'16" N 155°17'13" W, Summit Elevation 4091 ft (1247 m)
Current Volcano Alert Level: WARNING
Current Aviation Color Code: ORANGE
Eruption of lava in the Leilani Estates subdivision in the lower East Rift Zone of Kīlauea Volcano continues. Several additional eruptive fissures or vents – each several hundred yards long – have opened over the past day. No significant lava flows have yet formed. Spatter and lava are accumulating primarily within a few tens of yards of the vent.
The sixth and most recent fissure is on the eastern edge of the subdivision. Not all fissure vents remain active and no far-traveled lava flows have formed.
For maps showing the locations of these features, please see https://volcanoes.usgs.gov/volcanoes/kilauea/multimedia_maps.html
HVO geologists will be in the area overnight to track additional activity that may occur, and other scientists are closely tracking the volcano's overall activity using various monitoring data streams.
Seismicity and deformation are consistent with continued accumulation of magma within the rift zone. Additional outbreaks of lava are expected.
Residents should remain informed and heed Hawaii County Civil Defense messages (http://www.hawaiicounty.gov/active-alerts).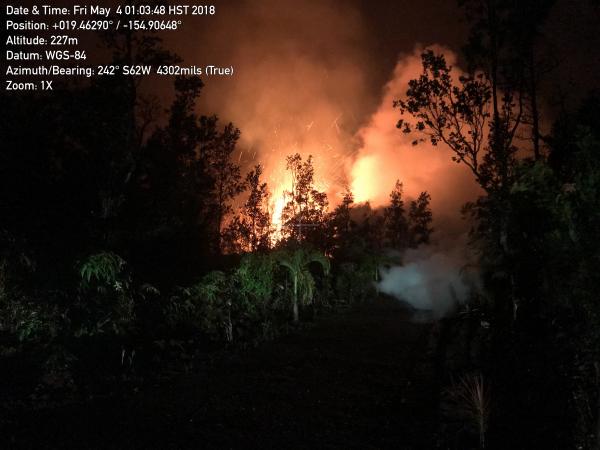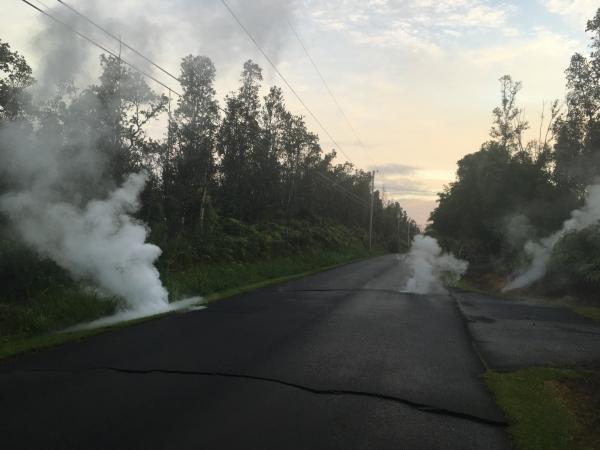 ABOVE: A new lava fissure (Fissure 2) commenced around 1:00 am HST on Kīlauea Volcano's lower East Rift Zone on Makamae and Leilani Streets in the Leilani Estates subdivision. Spatter was being thrown roughly 30 m (about 100 ft) high at the time of this photo. Copious amounts of sulfur dioxide gas, which should be avoided, is emitted from active fissures. The eruption is dynamic and changes could occur with little warning. TOP: Steaming cracks at 5:57 a.m. HST in Leilani Estates subdivision, moments before Fissure 3 opened up on Kaupili Street. [USGS/HVO]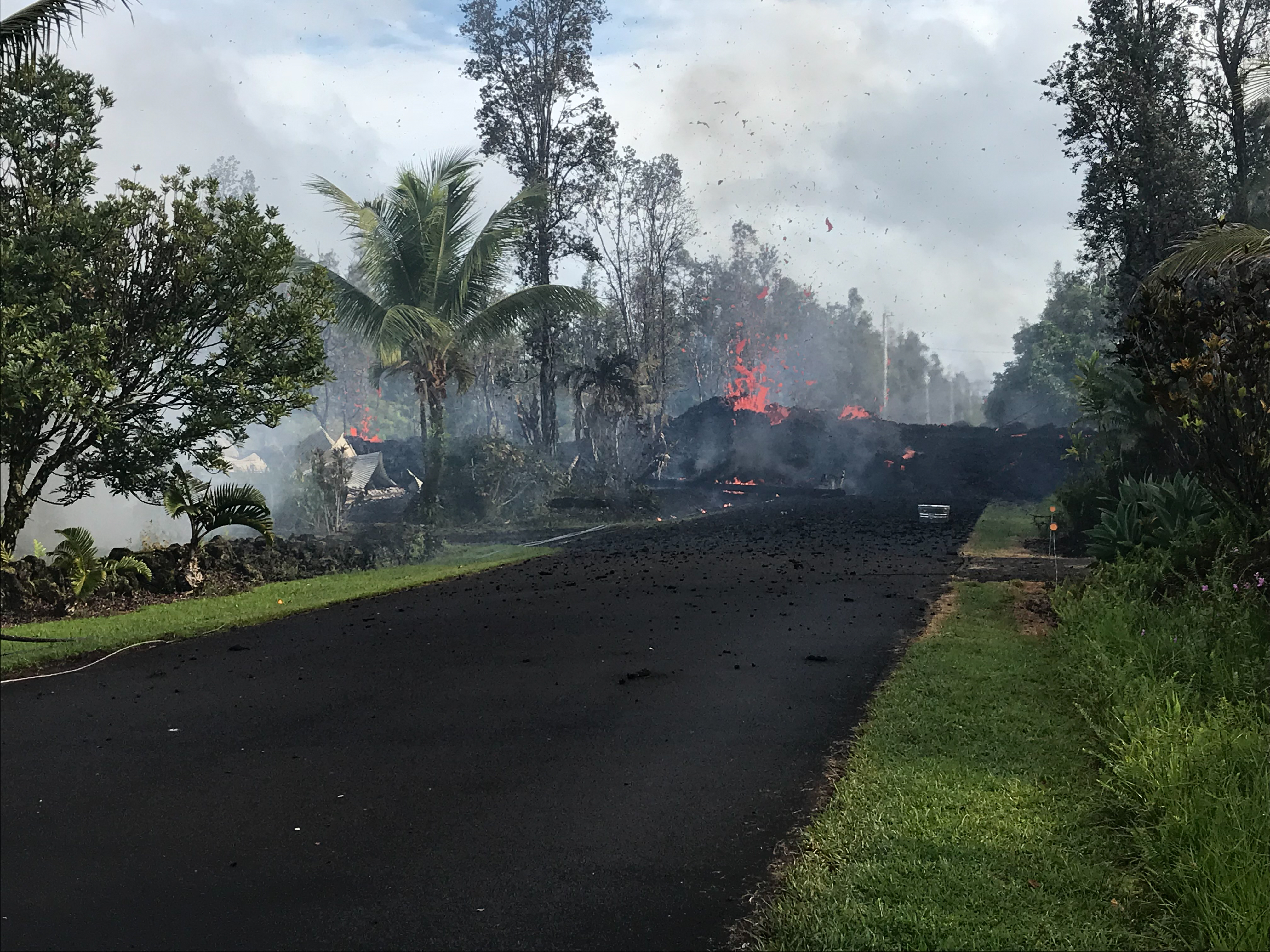 Fissure 3 at Leilani and Kaupili Streets in Leilani Estates subdivision at 8:07 a.m. HST today. Lava on the road was approximately 2 m (about 2 yd) thick. [USGS/HVO]

FIRE-EARTH theme for the eruption photos is available via FIRE-EARTH PULSARS.