CALIF DESERTIFICATION: NOT IF, BUT WHEN
Desertification of California in the Near Future Is Almost a Certainty
Drought often have significant environmental, economic and social impacts:
Shortages of water for agricultural, industrial, municipal and personal uses.
Death of livestock.
Crop failure, reduced crop yields.
Wildfires are more common during periods of drought.
Dust storms created by drought-enhanced land erosion and by desertification.
Malnutrition, dehydration and related diseases.
Famine due to lack of water for irrigation.
Social unrest.
Mass migration, resulting in internal displacement and international refugees.
War over natural resources, including water and food.
Reduced electricity production due to insufficient available coolant for power stations and reduced water flow through hydroelectric dams.
Snakes have been known to emerge and snakebites become more common.
Creates windblown dust bowls which erodes the landscape, damages terrestrial and aquatic wildlife habitat. (Source)
US Drought Monitor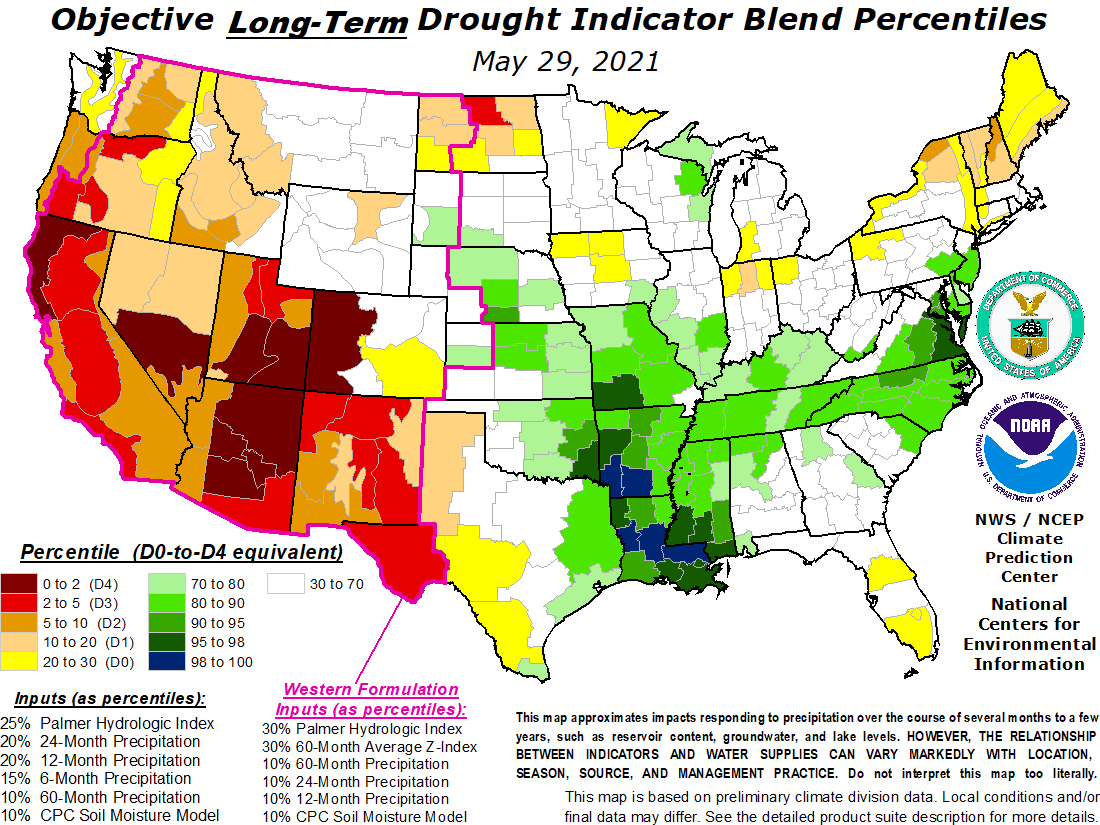 Objective Long Term Drought Indicator Blend Percentiles


Objective Short Term Drought Indicator Blend Percentiles
To view regional drought conditions, go to US Drought Monitor and click on the map. State maps can be accessed from regional maps.
Drought in California's Central Valley
[Image acquired July 12 – 27, 2009 by EO – Posted Aug 16, 2009]


By the end of July 2009, California was well into its third dry year in a row. The image was made from data collected by the Moderate Resolution Imaging Spectroradiometer (MODIS) on NASA's Terra satellite between July 12 and July 27, 2009. The sensor records the amount of light that photosynthesizing plants absorb and reflect as they grow. The image shows how vegetation fared in 2009 compared to the average based on observations between 2000 and 2008. In places where plants were growing more than average, the image is green. Cream is used to denote average growth, and brown points to less plant growth than average. In this image, dark squares of brown are scattered across much of the Westlands and Tulare Lake water districts. These brown squares are fields that would ordinarily support irrigated crops, but in 2009 the crops were not growing well or the fields lay fallow.
References

Drought Operations Center. (2009, July 31). California's Drought Update. State of California Natural Resources Agency. Accessed August 14, 2009.
Gorn, D. (2009, April 11). What's killing California's Salmon? National Public Radio. Accessed August 14, 2009.
McChesney, J. (2009, May 11). Drought, politics trouble farmers in California. National Public Radio. Accessed August 14, 2009.

Meehl, G.A., T.F. Stocker, W.D. Collins, P. Friedlingstein, A.T. Gaye, J.M. Gregory, A. Kitoh, R. Knutti, J.M. Murphy, A. Noda, S.C.B. Raper, I.G. Watterson, A.J.

Weaver and Z.-C. Zhao. (2007). Global Climate Projections. In Climate Change 2007: The Physical Science Basis. Contribution of Working Group I to the Fourth

Assessment Report of the Intergovernmental Panel on Climate Change [Solomon, S.,D. Qin, M. Manning, Z. Chen, M. Marquis, K.B. Averyt, M. Tignor and H.L. Miller (eds.)]. Cambridge University Press, Cambridge, United Kingdom and New York, NY, USA. Accessed August 14, 2009.

Riebeek, H. (2007, May 11).Potential Effects of Global Warming. In Global Warming, NASA's Earth Observatory. Accessed August 14, 2009.
Sullivan, C. (2009, May 12). California water agency changes course on delta smelt. New York Times. Accessed August 14, 2009.
Westlands Water District. Accessed August 14, 2009.
Woolf, S. (2009, June 15). California water districts sue to force federal fish agencies to obey environmental laws. Westlands Water District. Accessed August 14, 2009.
NASA image created by Jesse Allen, Earth Observatory, using data provided by Inbal Reshef, Global Agricultural Monitoring Project. Caption by Holli Riebeek and Rebecca Lindsey. [Edited by FEWW]

Related Links: