Hawaii Island seismicity increasing, hit by hundreds of earthquakes
Over 850 earthquakes measuring magnitude 2.5+ have struck in and around Hawai'i Island since April 20, according to USGS records.
HAWAIIAN VOLCANO OBSERVATORY STATUS REPORT – USGS
Thursday, May 17, 2018, 4:54 PM HST (Friday, May 18, 2018, 02:54 UTC)
Kīlauea Volcano Summit
After the explosive eruption early this morning seismic levels have been gradually increasing, but as of this report no additional explosions have occurred.
No earthquakes greater than magnitude 3.5 have occurred in the past day.
Volcanic gas emissions at the summit remain high.
Kīlauea Lower East Rift Zone
This afternoon, fissure 17 is still actively spattering but the flow is nearly stalled. In addition, fissures 18, 19, and 20 have reactivated and a new fissure (21) has opened between fissures 7 and 3. An area 50-100 yards wide, parallel to and north of the line of fissures between Highway 130 and Lanipuna Gardens, has dropped slightly. This long depression is currently being filled by pahoehoe lava flows from fissures 20 and 21.
Volcanic gas emissions remain elevated throughout the area downwind of the fissures.
Magma continues to be supplied to the lower East Rift Zone as indicated by the continued northwest displacement of a GPS monitoring station. Elevated earthquake activity continues, but earthquake locations have not moved farther downrift in the past couple of days. [USGS-HVO]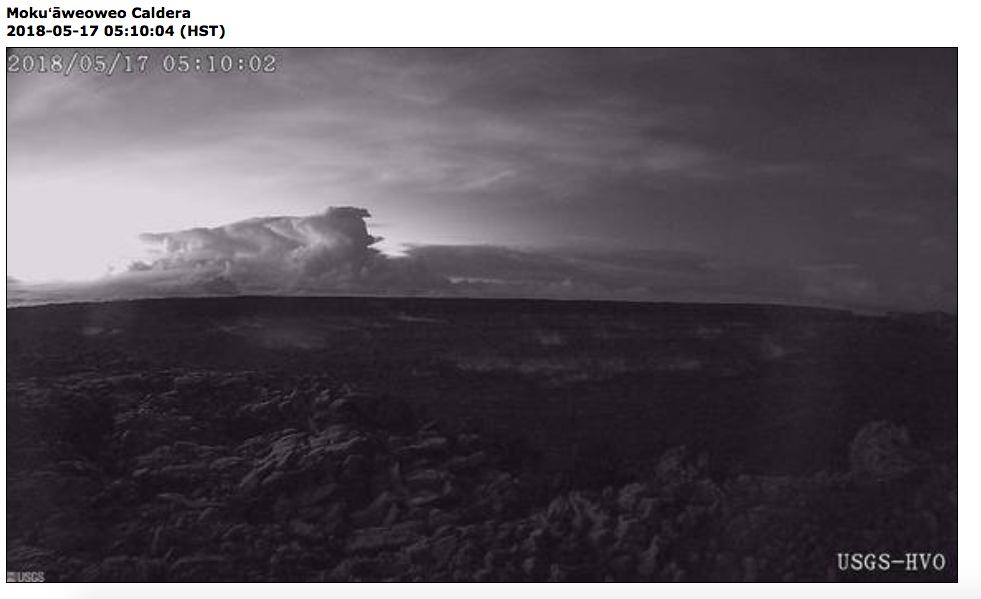 View of this morning's eruption plume from the Overlook crater nearly an hour after the event started. This image is from the webcam located on the north rim of Moku'āweoweo Caldera near the summit of Mauna Loa Volcano. This image was recorded at 5:10 a.m. HST. At about 04:15 a.m. HST, an explosion from the Overlook crater at Kīlauea Volcano's summit produced an eruption column that reached at least 30,000 ft. above sea level. The plume was blown by wind toward the northeast. This resulted in ash fall at the Hawaiian Volcano Observatory, and nearby Volcano Village and the Volcano Golf and Country Club Subdivsion. [USGS-HVO]

Highway to Hell: Cracks widen in lower East Rift Zone, Kīlauea Volcano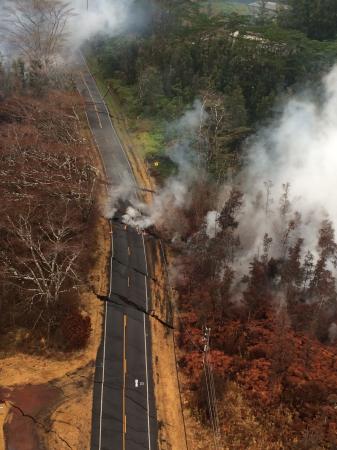 Aerial view of ground cracks on Pohoiki Road during an overflight of the eruptive fissure area at about 7 a.m. HST. Cracks continued to open and widen, some with horizontal and vertical offsets, in the area during the past 24 hours. These cracks are caused by the underlying intrusion of magma into the lower East Rift Zone. [USGS-HVO]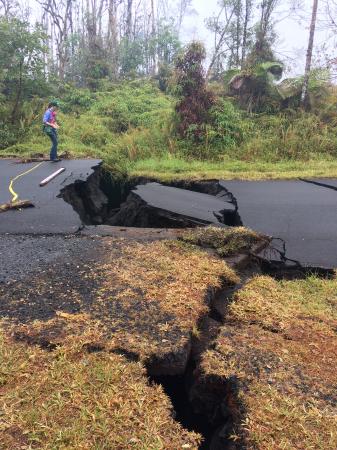 HVO geologist next to cracks on Nohea Street in Leilani Estates this morning. These cracks expanded significantly in the past day. Note the vertical offset across the cracks. [USGS-HVO]