Fissure 20 Cracks Open
Fissure 20 emitting lava spatter and super-heated steam has forced Hawaii authorities to call for more evacuations on the Big Island, while explosive eruptions from the Kilauea volcano loom.
Hawaiʻi County, encompassed by the Big Island, is home to about 190,000 people and an inordinate no. of tourists.
LOWER EAST RIFT ZONE: Eruption of lava continues from multiple points along the northeast end of the active fissure system, HVO said.
Volcanic gas emissions remain elevated throughout the area downwind of the vents. Yesterday [May 14 AM UTC] with the onset of activity at fissure 17, powerful steam jets have occurred intermittently near the west end of the fissure. These jets may be responsible for some of the loud sounds reported by residents and emergency workers.
KILAUEA SUMMIT: "Deflationary tilt at the summit of the volcano continues and seismicity remains elevated. Last night several strong earthquakes shook HVO and the surrounding area."
Several hours ago, "a steady, vigorous plume of steam and occasionally minor amounts of ash is rising from the Overlook vent and drifting downwind to the southwest. As has been observed over the past several days, occasional rockfalls into the deep vent are expected produce intermittent pulses of slightly more vigorous ash emissions. Depending on wind conditions, dustings of ash may occur in the Kilauea summit area and downwind. More energetic ash emissions are possible if explosive activity commences," HVO said.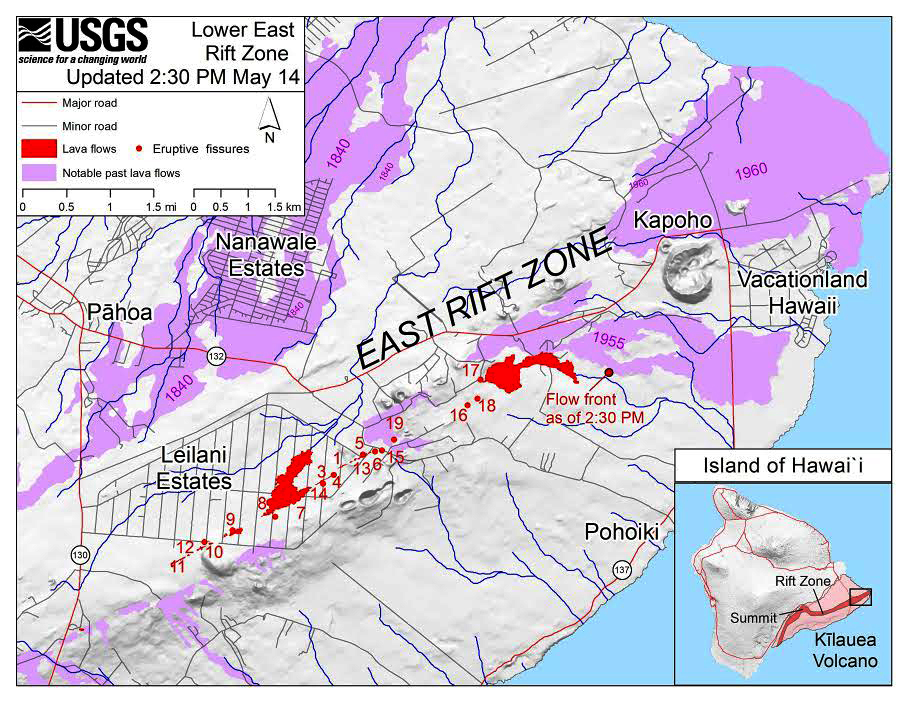 Map as of 2:30 p.m. HST, May 14, shows the location of fissure 17, which opened on May 13 at about 4:30 a.m. HST., and the area covered by an 'a'ā flow since then. The flow front as of 2:30 p.m. is shown by the small red circle with label. The flow is following well a path of steepest descent (blue line), immediately south of the 1955 'a'ā flow boundary. Shaded purple areas indicate lava flows erupted in 1840, 1955, 1960, and 2014-2015. [USGS/HVO]